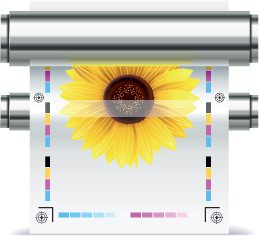 Our Equipment
We have a strong equipment inventory. Since printing is considered a manufacturing business, our equipment choices have a major impact on how well our company can perform.
Our philosophy of providing consistent, on time delivery and the highest quality printed images is made possible by our job workflow systems, our talented team of coworkers, and our high tech equipment.
We utilize the most current technology in our industry. Our state of the art equipment allows us to provide our clients with higher quality products faster and less expensively than our competition.
We realize that most people could care less about what models of equipment we use, so long as they receive what they ordered. Still, we can't help being proud. We would like to invite you to come visit us for a plant tour. Once you see how great they make you look, we hope you'll be proud of them, too.
Design Software
---
Adobe Creative Suite
QuarkXPress
Microsoft Office
Prepress
---
Apple Mac computers
PC Windows computers
Kodak Prepress Equipment that uses environmentally friendly printer inks and processless plates
Workflow
---
Canon ImageRunner Digital Press
Konica Minolta Bizhub Digital Press
Ricoh Pro Digital Press
Pressroom
---
Itek
Komori with Aqueous in-line coater and computer print control system
Ryobi
Mailing Services
---
Targeted Mailing Lists
Every Door Direct
Variable Data personalization
Bulk Mail and Data Services Discounts
CASS Certified ZIP+4
Move Update NCOA
Mail Inserter
Labeling, Tying, Wafer Seal and Tabbing Machines
USPS Sorting, Preparation and Delivery
Post Press Finishing
---
Bookbinders
Cutters and Scorers
Folders
Shrink Wrappers
Fulfillment and Shipping
---
Fulfillment Storage
Pick and Pack Kit Building
US or International Mailing
Daily shipping by UPS and FedEx